Brand New Business Owner Andy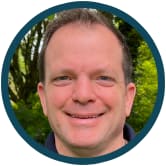 We are thrilled to welcome one more brand new business owner to our thriving Ed's franchise business team. Andy Foster has recently signed up to run his Ed's gardening business in Milton Keynes (North West). Andy is our fifth new franchise business owner since the start of 2022. We have welcomed a new business owner each and every month in the year to date.
Following on from his induction period, we had a chat with Andy about his reflections on joining Ed's.
Brand New Ed's Business Owner – Background
"My background is working in a number of production-related roles for huge international companies. I've been given more and more responsibility over the years and the rewards have been very good. On the whole, I have always enjoyed my work. However, there have also been a number of unsatisfactory elements that I have wanted to change for some time. The crux is that it is really hard to maintain a good work/life balance when you are working very long days. Night shifts are also very difficult to manage alongside an involved family life. I knew that my children were growing up too quickly and I felt that I was missing out. In a nutshell, I really missed having control of my own career. I craved the freedom to build a good career in parallel with quality time with my family."
To Franchise or not to Franchise?
" My rationale was as follows. First of all, I knew that I wanted to run my own business in the next phase of my career. Secondly, I really enjoy the outdoors and it is important to me to build a business doing something I enjoy. Then there was the question of whether I should start up an independent gardening business or join a franchise. The challenge I had was that I wanted to put in the correct building blocks for a professional business but I also needed to replace the earnings level that I would be giving up…and quickly!"
"The conclusion I reached was that it would be pretty much impossible to meet that challenge with my own independent business. I liked the idea of the franchise route already having the groundwork in place for me. Consequently I decided that the franchise route was the way to go. However, it had to be with a very high quality franchise."
"And so, my franchise business homework commenced…"
Your First Impression of Ed's?
"I have worked for companies with some of the most successful brands in the world and I can see just how much value a strong brand can create. Without a doubt, Ed's has the best brand in the UK garden services franchise sector. I could see how I could build a strong business with that brand as a foundation. That was really clear even from the first cursory look at gardening franchise websites."
"Right from the start, I felt instinctively that the Ed's brand, their business model and all the business support I would get from Ed's, would all set me up well to build a quality gardening business. It really is a powerful cocktail."
Your Due diligence?
Andy laughs "Oh yes! I did lots of that. Even though I had a really good feeling about the fit of Ed's from the start, I wanted to be 100% sure. It's sobering that, if I were to make the wrong move, my whole family would suffer. However, it really wasn't too arduous a process. The Ed's Office team guides you through your due diligence process as they want you to make a very considered decision to join. It's not enough for them that they really like you. They need to know that you are sure too."
Meeting the team
"I had access to a number of established business owners. It was great to have the opportunity to grill them on their Ed's experience. That helped me a lot to be 100% sure that Ed's was right for me. I was definitely reassured that I would be able to grow the business I aspire to. I got to see real powerhouse businesses in action. Furthermore, some of these businesses have only fairly recently been established. I found that hugely motivational."
Jumping aboard
"I found the the joining process to be really efficient with Ed's. I had made my decision and then wanted to get up and running as quickly as possible. The office team pulled out all the stops to achieve that as quickly as possible without compromising covering everything we needed to. I really was pleasantly surprised at how thorough and smooth the joining process was."
Brand New Business Owner – The reality?
"I have been amazed at how quickly I am establishing my business. It is true that, before you start, everyone tells you that you will get really busy really quickly. However, it is human nature that you don't quite believe it until it happens! My very first day kicked off with an enquiry for my services pretty much immediately. I couldn't believe it. Furthermore, I've been busy ever since and already have 6 or 7 regular customers. Further validation that I have a great opportunity before me."
The Ed's Team wishes Andy all the very best with his new business. We look forward to updating on his progress.